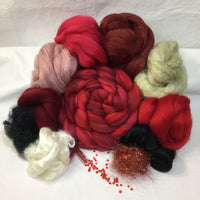 Spinning Kits
My Spinning Kits allow spinners to sample a variety of spinning fiber and colorways. We have an abundance of gorgeous fibers we offer in stunning combinations.
Join our Spinning Kit Fiber Club! You'll love the large variety of fibers ~ we strive to offer you the newest ones as soon they hit the market. And we have all the familiar woolly goodness you could want! Enroll on a recurring basis for the best value!
Each Fiber Club Kit has a unique theme. The image to the left is the January 2018 "Four Seasons" Fiber Club Spinning Kit named "Scarlett" ~ Our delightful nod to "Gone With The Wind". With special "goodies" included, each Spinning Kit is a unique surprise when it arrives. My hand dyed fiber is paired with beautiful commercial dyed fibers that I personally curate along with  other add-ins. You are sure to be inspired to create your own one of a kind project with the coordinated colors and textures.
Click This Link to Fiber Club Page
Verified Customer Reviews